By Mariannina Patsa
"My portraits do not go beyond the surface. I have faith in that. A good surface is full of elements." – Richard Avedon
Richard Avedon (1923-2004) was not just a photographer but a versatile innovator of his art. His father, Jacob, owned a luxury women's clothing store on New York's Fifth Avenue. And his mother, Anna, instilled in him an early love of the arts. That's how Richard Avedon found himself photographing fashion. His shots, black and white and abstract, brought an unprecedented humanistic quality to photography. He was one of the pioneers in the realization that a model is not in front of the lens to hang around like a couture hanger. She saw that she was not there to just sell a product but a total image, a fantasy that everyone would like to live. But his mastery of portraiture wasn't just about his technical skill and aesthetics either. It was mostly to do with his ability to create a relationship of trust and intimacy with his subjects, so that they would trust him. Sometimes, he even directly provoked their reactions by leading the conversation to uncomfortable topics or by asking them psychologically penetrating questions. Thus, opening up to him also became an art form in itself.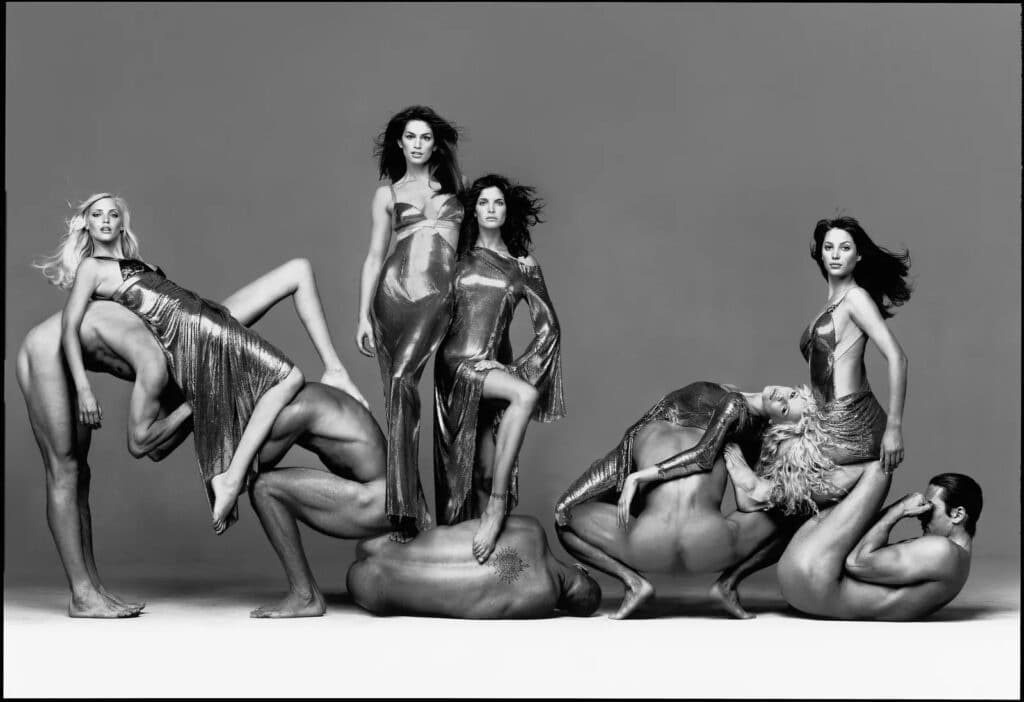 Nadja Auermann, Cindy Crawford, Stephanie Seymour, Claudia Schiffer, Christy Turlington, Maximo Morrone, Vladimir McCrary, Eric Etebari, Marcus Schenkenberg, Versace – FW 1994. Courtesy of The Rich
In the now legendary 1957 portrait of Marilyn Monroe captured in her traps, motionless, without her bright smile, without her skirts, with an introspective expression and a total indifference to whether she is in front of the camera or not, is typical of this quality. He waited hours for this shot. When the night was over and the dancing, flirting and champagne were finished, Monroe sat quietly in a corner like a little girl, no expression on her face. Then Avedon walked in front of her with the camera, and, taking her permission with his eyes, captured the moment. And just like that, Avedon's deeply honest and moving portraits contributed significantly to the reshaping of photography as an expressive art form. Avedon is deeply anthropocentric and even in his fashion editorials, faces occupy a large part of the composition. His close-ups not only provide details, including physical imperfections, but make the viewer feel as if they are invading the director's private space. He prefers white backgrounds, no framing and no "soft" lights at all. And of course black and white film. Because "colour creates an undesirable distraction from the essential".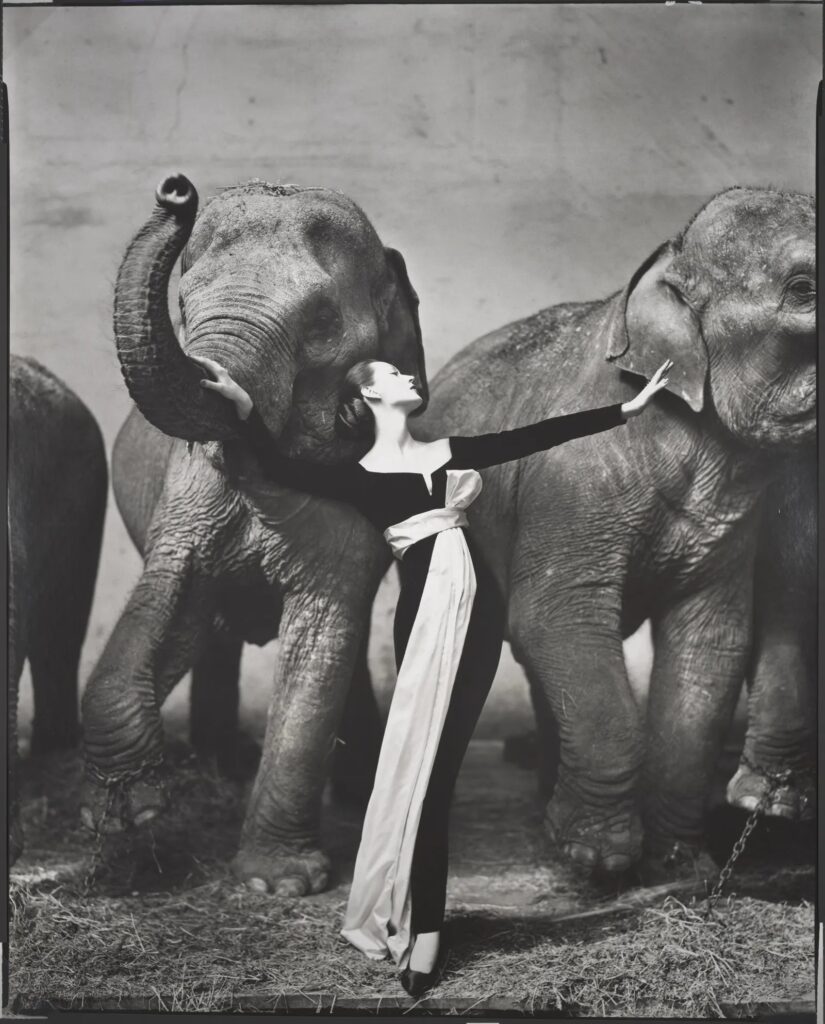 Dovima with elephants, evening dress by Dior, Cirque d'Hiver, Paris, August 1955. Courtesy of The Richard Avedon Foundation
But traffic is also something he is interested in. He wants to keep his eyes open and anticipate the "after" because he knows that if he is even a second late, he will miss the moment. That's how he captured top model Veruschka, dressed in couture clothes, twirling on ballerina shoes in 1967. The image stands in stark contrast to the well-posed, static images of the time. Her face is barely visible while her body is "broken" into unnatural lines. Her garment swirls too, its exuberant fabric creating a form that looks like a flower bulb about to bloom. Who said fashion shouldn't be spontaneous? And why should one simply see clothes and not caress one's soul with a playful dream? The truth in Avedon's shots seems revealing. But he, himself, made sure to leave for this a hint of mystery and the opportunity for the viewer to decide for himself, saying: "All the photographs are accurate. None of them are the truth."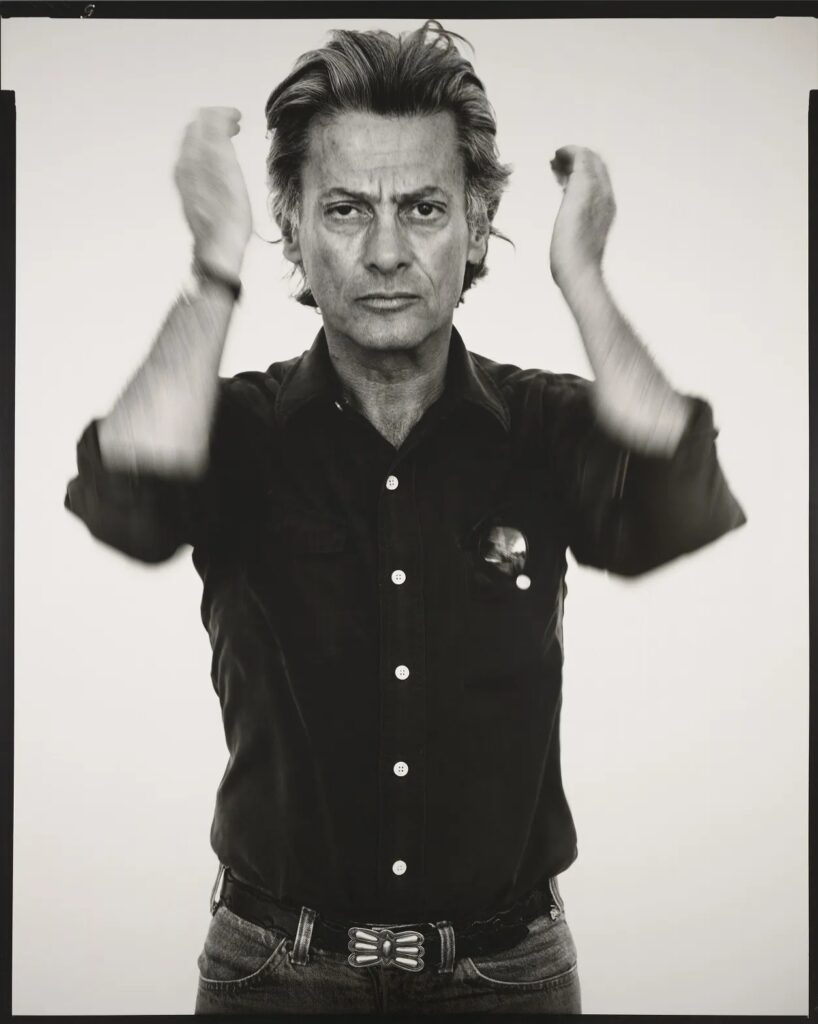 Richard Avedon, Self-portrait, Provo, Utah, August 20, 1980.Courtesy of The Richard Avedon Foundation