Paris, 5, Avenue Marceau 5.Between the Arc de Triomphe and the Seine, the Yves Saint Laurent Paris Museum is located in the same place where for almost 30 years, from 1974 to 2002, the great designer designed his iconic creations. In this legendary space, the museum's director Elsa Janssen talks to us about Yves Saint Laurent, retracing his life, work and philosophy as a creator.
By George Arhimandritis
When did Yves Saint Laurent discover fashion and his inclination towards it?
He discovered it in Oran, Algeria, where he was born, in particular through the costumes designed for Molière's "School for Women" by Christian Berard, an artist who had a great influence on his later career. In other words, he discovers the theatrical costume before fashion. This is his first contact with the world of clothing. He then discovers it through the magazines his mother and sisters read. In fact, very quickly, from the age of fourteen, he begins to create his famous paper dolls for which he designed two-dimensional paper wardrobes.
How did she enter the fashion world professionally?
In 1954 he won first prize in the "dress" section of a major competition and a few months later he was hired by Christian Dior, who immediately noticed his enormous talent. Yves Saint Laurent has great respect for Dior and learns a lot from him. He is inspired by his designs, his perfectionism, his method and his discipline. Being the esthete that he was, he also admired his lifestyle, his love of visual arts and his relationships with well-known artists of the time. And when Dior died, in 1957, Yves Saint Laurent succeeded him as artistic director of the house. So, at 21, he becomes the youngest fashion designer in the world. It was there that he would create the trapèze line, which would become a key element of his artistic identity. In his later creations, he would even draw a great deal of inspiration from the men's wardrobe – tuxedos, workers' overalls, navy coats – and transfer it to the women's wardrobe with the idea of giving the woman who wears it power and authority.
A special role in the creation of his own house was played by his acquaintance with his partner, Pierre Bergé…
Yes, because, on the one hand, Yves Saint Laurent was an amazingly talented creator and, on the other hand, Pierre Bergé was an esthete who immediately understood that his artistic genius could form the basis for the creation of a house bearing his name. They were two truly complementary personalities and formed an exemplary model of business development. They knew how to select very capable partners, they were bold at the right time, and they had a sense of showmanship and marketing. All this played a very important role in the development of the Yves Saint Laurent brand.
Another element that united them was their love for art…
Of course. They even started to create their famous collection before they founded the fashion house. Also, through his relationship with Pierre Berger, Yves would meet many art maecenas and this would be a revelation for him. He will come into contact with their refined way of life, the magical spaces in which they lived, their interest, ambition and curiosity in art. This will give birth to the ambition to become part of this world himself. This was achieved thanks to his relationship with Pierre Berger and their shared passion for art. And the amazing thing about their collection is that it included not only works from the twentieth century, but from different eras of art history and different cultures.
The expression of this passion was the Villa Mazorel in Morocco…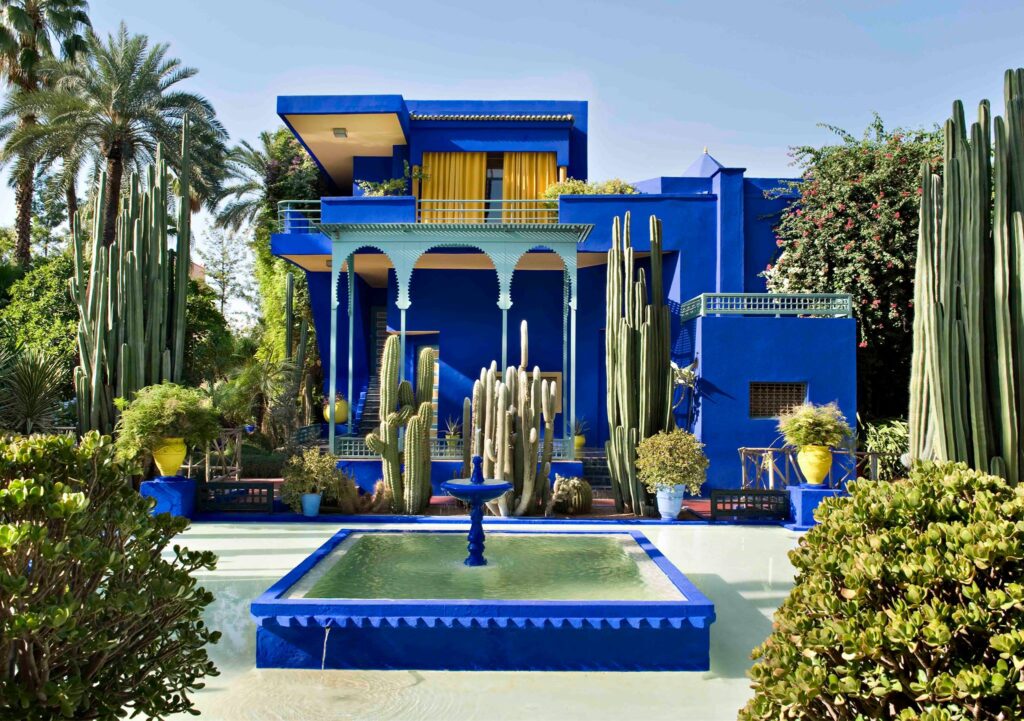 Exactly. They discover Morocco in 1966 and immediately fall in love with it. There Yves Saint Laurent rediscovers the light of his childhood, the bright sun, the bright colours. It was then that he began to add colour to his creations, whereas until then he had been a fanatic of black. The Villa Oasis, which belonged to the French painter Jacques Mazorel, played a role in this. The acquisition of this villa with its magnificent colours and stunning gardens is not just the expression of an artistic ambition, but a true celebration of the senses. The ashes of Yves would later be scattered in its rose garden.
What were the female figures that inspired him as a designer?
From his close circle, it was clearly Betty Catru and Lulu de la Falaise, two personalities completely different from each other. Lulu fascinated him with the way she dressed, with her inventiveness, with her eccentric and quirky character. She had an endless imagination, dressed in second-hand clothes, was incredibly elegant – in a baroque way – and very feminine. On the other hand, there was Betty Katru with her androgynous figure, who was indifferent to all that. She always wore the same clothes and was very fond of Yves Saint Laurent's minimalist creations with a strong androgynous element. Another female figure who was a great source of inspiration for him was Catherine Deneuve, whom he worshipped like a goddess. He adored the mystery that surrounded her, her glamour and her intelligence. And then there were Hélène de Rochild, Marie-Laure de Noyage, Hélène Rochasse, women-maecenas who supported the arts and loved poetry, opera and the arts in general.
Is fashion an art after all?
Pierre Bergé used to say that fashion may not be art, but that Yves Saint Laurent was an artist. The utilitarian aspect of clothing is usually so strong that it doesn't allow you to consider fashion as art. But in Yves Saint Laurent's creations, the artistic dimension is often so strong that the utilitarian aspect is eliminated. That is why many of his designs are true artistic creations. They are art.