The world's oldest men's magazine symbolizes that elegance is accessible to everyone, that it is not innate but worked out, a matter of culture.
In January 1920, a magazine with a striking colour Illustration cover appeared on the newsstands in Paris. It was the issue of the first men's magazine in history, Monsieur, and the beginning of an adventure in classic elegance that continues into our digital days. Monsieur was created by couturier Paul Poiret and Jacques Hébertot, presenting a publication far ahead of its time. It was launched in the era immediately after the First World War in a world in search of the new. In a decade that has been described as "The Roaring Twenties" and during which great upheavals occurred that determined the subsequent course of the whole world, and we are not talking about fashion.
With its publication in 1920 it began to showcase the fashions of Paris, London and New York. He wrote about the way hats were worn and the triumph of short clothes. It also touched on subjects as diverse as how to dress your valet properly and how to address a worker.One hundred and one years before Monsieur, it cost 5 francs and with its excellent covers, designed by the famous illustrator Maurice Taquoy, it created a "school" that was to be followed by many. Monsieur was born in the euphoria of the victory over Germany in 1918 and at the beginning of a period in which people wanted to move forward and live their lives with optimism. "The war changed everything," read the editorial in issue 1. So it was in this mood that the suggestions, the dos & don'ts of menswear began, essentially creating trends and a timeless manual of elegance.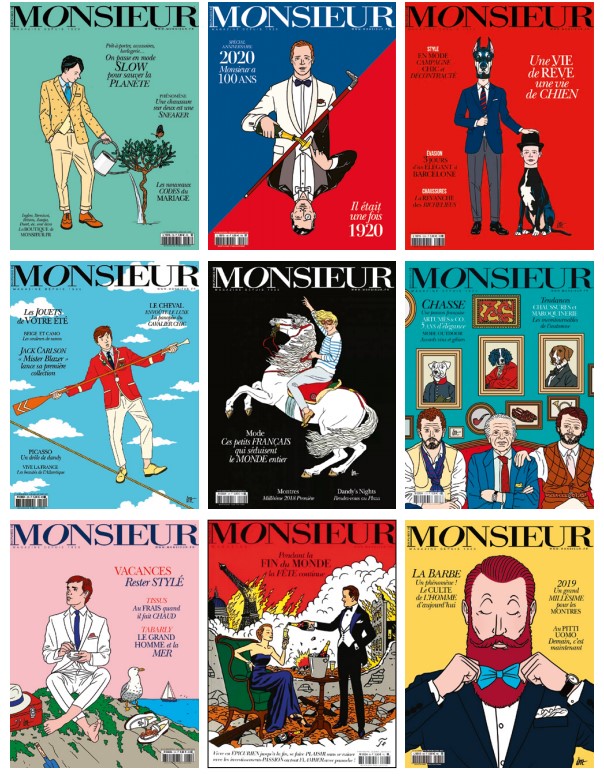 Over the years, Monsieur will have various adventures, will retire for a while and will be reborn after the Second World War. In 1994, Montaigne Publications took over the reins, with the main idea of defending individual style and classical elegance , going against the fashion trend. At that time the forecasts were negative and gave a few months of life to the new phase of the magazine. The warm reception from readers proved everyone wrong. The revamped Monsieur established itself as the successor to its famous ancestor and even to Vogue Homme, a benchmark for men in the 1980s, which ended its run in early 1996.
Since then, Monsieur's trajectory has continued without ever deviating from its creed: "to speak lightly of serious things and seriously of light things". In it you will read articles on the thickness of shirt buttons, the width of trousers, the comparative advantages of the cassette and the vicuña. The secrets of the looks of James Bond, John F. Kennedy, Steve McQueen, Serge Gainsbourg as well as special editions for shoes and cars. Today in the digital age, Monsieur's covers are still unique and everyone recognizes them at first glance. The world's oldest men's magazine remains true to the spirit of its founders, men with taste and a sense of elegance. To symbolize that elegance is accessible to all, that it is not innate but worked out, that is, a matter of culture. It continues to follow something written in one of its first issues, "Beneath the apparent vanity of fashion, and make no mistake about it, the whole art of our lives expresses itself and finds its most elaborate expressions."