Ten years after the German occupiers left Greece and five years after the end of the Civil War, photographer Robert McCabe, a student at Princeton University, visited Greece for the first time during a trip that was scheduled to last two weeks. But after the first week, he and his brother, Charles, made the big decision to cancel their planned visits to Egypt, Italy and France and simply stay in Greece. The Greece he first saw was mired in poverty. However, he was constantly surprised and delighted by the cheerfulness, warmth and welcoming spirit of these people who had survived the nightmare of war and its aftermath. Thus began the "two weeks" that became a lifetime. The trips to Greece continued and Robert McCabe's deep bond with the country grew stronger over the years. What he observed as a visitor and then living in Greece was initially a slow recovery, but then a remarkable growth and transformation of the country into a modern European state. Greece was one of the poorest countries in Europe before the war – hence the road was long and difficult.
On the occasion of this special life journey, the European Cultural Centre of Delphi presents the exhibition of photographs by Robert McCabe entitled "Greece after the war – The years of hope". The exhibition depicts the place and the people in the post-war years through the eyes of the photographer. From Epirus to Crete and from Pylos to Rhodes, the American captures the years of hope, reconstruction, the new era, the "opening", the transitional and pivotal point in modern Greek history. The texts of the exhibition and the book of the same name that accompanies it are by Panagiotis Roilou (professor at Harvard University) and the journalist Katerina Liberopoulou and were published last May by Patakis. The opening took place on Saturday 10 June at the Exhibition Hall of the Delphi Conference Centre and the exhibition will run until 30 September. During the same period, the exhibition "Delphi in the 1950s" with the lens of Robert McCabe is currently underway at the Delphi Archaeological Museum, which will run until 31 December.
Serifos, Chora. Windy meeting at the tap.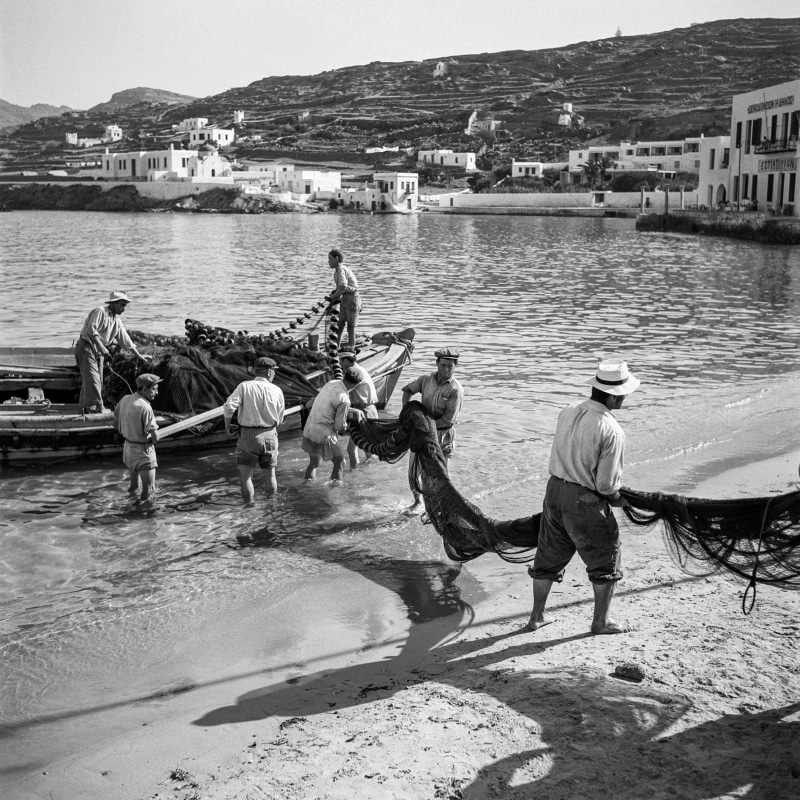 Mykonos, 1955. Dawn on the pier Kampani.
Cover Photo by Studio Panoulis
Main Photos by Robert A. McCabe